Despite billions of dollars being pumped into VC-backed startups in America's financial technology market, only 6% of adults in the U.S. have a digital bank account, according to a new survey.
The report, conducted by comparison website Finder.com, polled 41,654 people in 31 countries to assess current neobanking adoption rates. The U.S. ranked at the bottom of list as number 31.
However, Finder.com's Neobanking Adoption Report predicts that the percentage of adults in America with a digital-only bank account is set to rise to 11% by 2026.
And while progress is progress, it's not enough for America to be breaking into the top ranks anytime soon.
"Over the next five years, the U.S. is set to have one of the smallest increases in digital banking adoption at just 5 percentage points, tied with France and ahead of only Japan at 4 percentage points," Elizabeth Barry, Finder.com's global fintech editor, said in a news release. "This puts the U.S. well below the global average of 11 percentage points."
Barry noted that many Americans are, however, adopting digital features built into their traditional bank accounts.
"Neobanks typically have lower fees, better customer service, and are the first to launch new technologies and features to make banking easier for the customer," she said. "Consumers don't necessarily need to ditch their legacy bank to enjoy these perks — you can think of neobanks as being part of your banking arsenal by engaging with multiple brands to meet your needs."
On the other side of the spectrum, Brazil topped the list as the biggest digital-only banking market, estimating adoption among adults in the South American country at 32.08%. No other country rose above a 30% market share for digital-only banking.
Statista says neobanking transaction volume in Brazil should approach $105.7 billion this year.
According to research from Brazilian fintech startup idwall, the South American nation is projected to surpass 200 million digital-only accounts this year. That represents 95% of the country's population. In May alone, nearly 21 million digital banking and digital wallet apps were downloaded in Brazil, Latin American news website LABS says. That was the fourth straight month that the number of those downloads exceeded 20 million.
Here's the breakdown, based on Finder.com's survey, of digital-only banking adoption in 30 major global markets: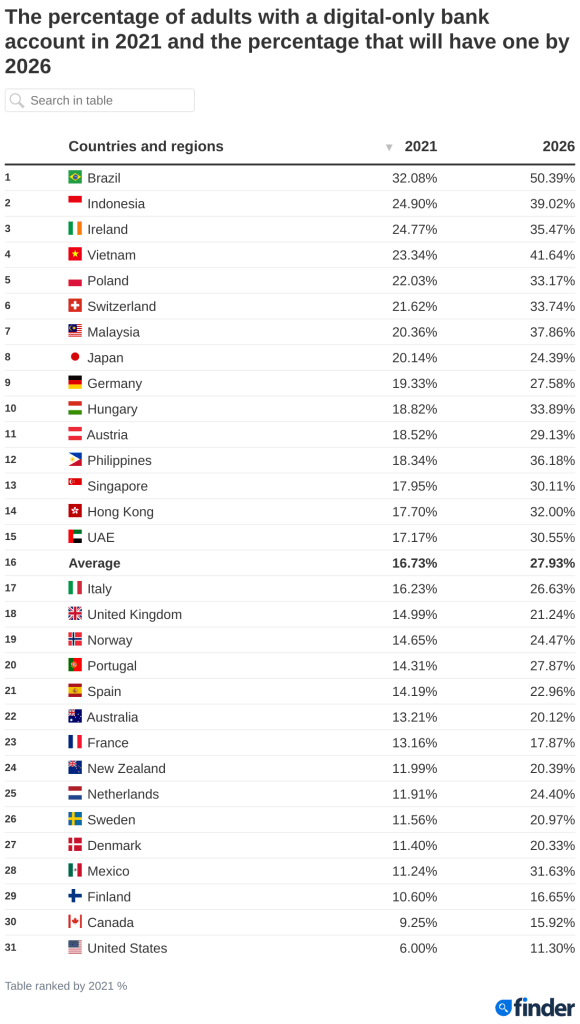 Forecasts regarding the growth of the global neobanking market are all over the map. For instance, Brandessence Market Research and Consulting foresees the market expanding from nearly $31.4 billion in 2020 to nearly $378 billion in 2028. By contrast, ResearchAndMarkets.com pegged the market size at $20.4 billion in 2019 and predicts it will rise to $471 billion by 2027.
"Digital banks are driving customers to their ranks, from awareness to account opening, with digitally native marketing strategies and value propositions. Streamlined account-opening flows are helping them close the deal," Insider Intelligence says.