SpotOn, a payments and software startup focused on small and medium-sized businesses (SMBs), announced Wednesday it has raised $60 million in series C funding.
Investment giant DST Global led the round, which also included participation from existing backers Dragoneer Investment Group and Franklin Templeton. Notably, the financing comes just over six months after SpotOn closed on $50 million in Series B funding led by 01 Advisors –a newish VC firm founded by former Twitter execs. Impressively, SpotOn has raised a total of $190 million since its early-2017 inception – according to Crunchbase – with $150 million of that raised since June 2019.
This week, I talked to SpotOn President RJ Horsely about the San Francisco startup's latest raise and what it means in the broader context of payments as a whole.
What it does
SpotOn is taking on the likes of Square in the payments space. But the company says it "goes way beyond" traditional payment processing and point-of-sale (POS) software. Its platform also gives SMBs the ability to run their businesses "from building a brand to taking payments and everything in-between." It aims to be a "one-stop-shop" by incorporating tools that include things such as custom website development, scheduling software, marketing, appointment scheduling, review management, analytics and digital loyalty.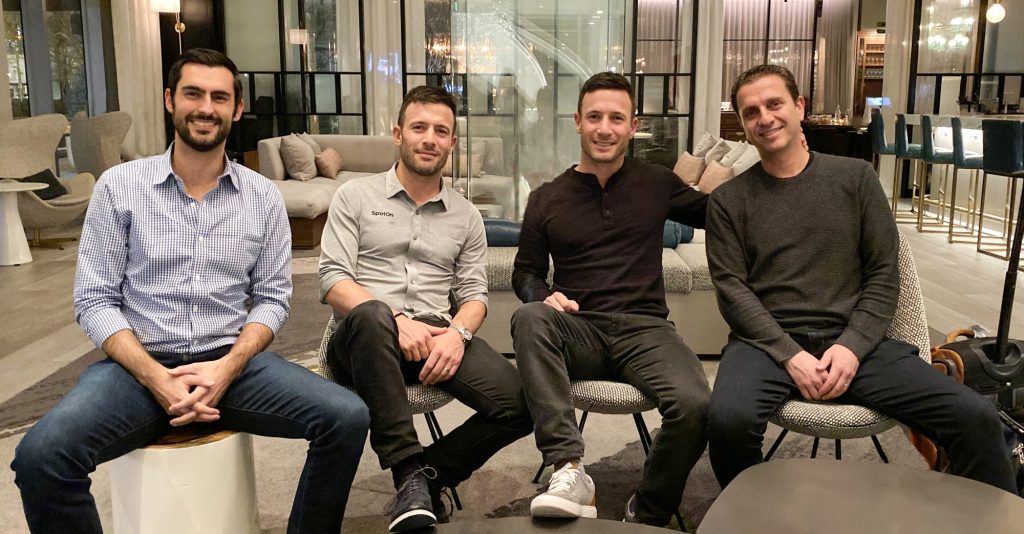 To put it simply, according to Horsley, SpotOn wants to give SMBs the ability to accept payments "coupled with meaningful, integrated software to meet their specific needs and operate more efficiently."
"Unlike other offerings, we build our own product offerings and have straightforward pricing coupled with face-to-face service," he said.
Horsley insists that SpotOn is a product first company.
"We're a software company that sells payments, not a payments company that sells software," he told FinLedger. "I think that's a pretty important delineation."
Horsley added that SpotOn wasn't necessarily looking to raise more money so soon but when faced with the prospect, believed it made sense so it could focus on continuing to grow the business rather than on raising more funds in the near future.
Growth
I asked Horsley about the company's recent growth metrics, and he declined to comment. But back in March at the time of SpotOn's Series B raise, he had told me (when I was reporting for Crunchbase News) that the company saw its revenue surge by over 150 percent in 2019. Also, at the time, Horsley had said that SpotOn had doubled its employee count to 850 over the prior 12 months. This week, he told me the company now has over 1,000 employees spread across its offices in San Francisco, Chicago, Detroit, Denver, Mexico City, Mexico, and Krakow, Poland.
Between January and early March 2020, the company had added over 5,000 clients with a focus on the food and beverage industry. At that time, Horsley had told me that the company expected to add a total 30,000 clients this year. This week, he told FinLedger that SpotOn currently has "tens and tens of thousands of clients."
With so many SMBs taking a hit during the COVID-19 pandemic, I was curious if demand for SpotOn's offering might wane. Horsley insisted that has not been the case.
In fact, he said it's been quite the opposite with the pandemic only accelerating business owners' need to adopt digital solutions. And since its clients are mainly in the retail, services and restaurant industries – sectors that have had to adapt to survive – SpotOn has actually seen "huge market demand," Horsley said.
"This trend towards technology and small business wasn't created by the pandemic, but it was sure as hell accelerated by it," he told FinLedger. "I don't know a business today that can run their business the same way as they did seven months ago, SpotOn included."
For example, in recent months, SpotOn has helped existing restaurant clients add online ordering while also helping retail merchants update their websites for e-commerce. The company has also helped existing clients adapt to the new environment.
"We want to provide tools to our clients to connect and build relationships with their customers. And then from there, there's specific solutions that apply to all different types of businesses," Horsley explained. "So for the food and beverage vertical, that could be online ordering, reservation management, or loyalty. Whereas for the services vertical, maybe appointment software is the piece that's most relevant. So we have specific add-on solutions for each of the verticals."
The company acquired another startup in July and is open to more acquisitions, Horsley said. It's also planning to use its new capital to further its go-to-market strategy.
SpotOn's ability to continue to attract new customers despite a challenging economic climate is a testament to its offering, its investors believe.
Rahul Mehta, managing partner at DST Global, said his firm was "very impressed" with SpotOn's "quality of execution, product cadence and customer centric approach in these unprecedented times."
At the time of the company's last raise, 01 Advisors managing partner and co-founder (and former Twitter CEO) Dick Costolo described SpotOn as a rare company that can build both "great" products and "great" sales teams.
There's no question that the B2B payments space continues to heat up. Last week, we covered cross-border payment startup Veem's $31 million raise. And last month, we reported on pandemic-fueled growth at a few other B2B payments players including Paystand, AvidXchange and Billtrust.