Envoy Technologies, which provides electric vehicle carsharing as an amenity within commercial real estate communities, has secured $11 million in Series A round and $70 million in a strategic vehicle financing facility.
Shell Ventures and Building Ventures co-led the Series A, which also included participation from DENSO, Goodyear Ventures, GroundBreak Ventures, and the Los Angeles Cleantech Incubator Impact Fund. Macquarie Specialized and Asset Finance is providing the debt portion of the financing.
Founded in 2017 by real estate and tech entrepreneurs Aric Ohana and Ori Sagie, Culver City, California-based Envoy partners with developers and landlords to provide onsite mobility services via its "Mobility as an Amenity"TM offering.
Those services – presented as an "exclusive amenity" – include electric car-sharing and EV charging as well as a "full-service" mobile app for registration, reservation, and vehicle access, car washes, maintenance and insurance. Essentially, Envoy gives property developers and landlords a way to offer in-house, on-site, on-demand electric vehicle-sharing services "where people live, work and stay." It offers its cars and services at a range of property types such as apartments, condos, student housing, office campuses, co-working spaces, and hotels.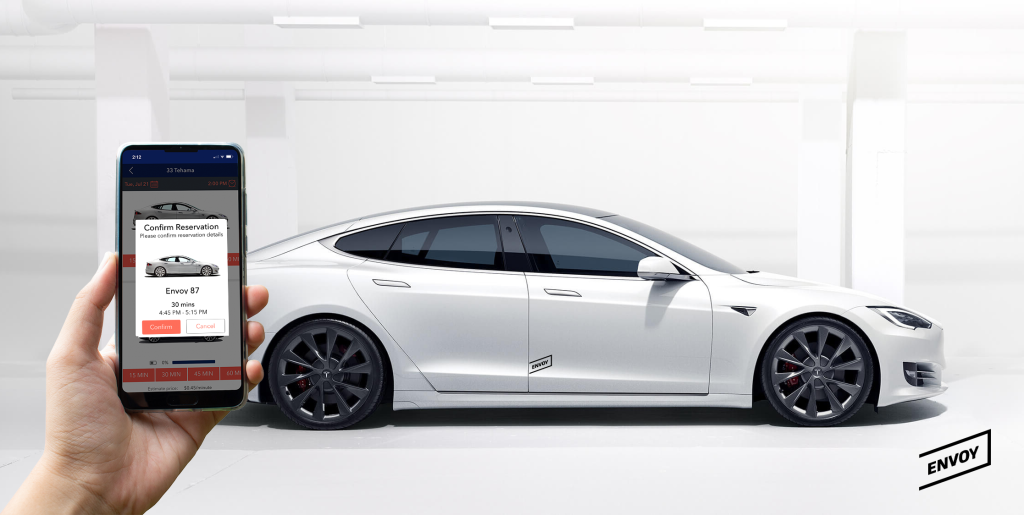 "Early on, we realized that the world's transition to electric mobility will significantly impact our built world," said Aric Ohana, Envoy's co-founder and CEO.
The COVID-19 pandemic has been a tailwind for the company, with monthly revenues growing more than 160% since initial lockdowns in April, according to Drew Hopkins, Envoy's chief growth officer.
Since its inception, Envoy has deployed over 200 electric vehicles at more than 100 properties as well as installed more than 150 charging stations. It is currently available in 14 markets across 10 states in the U.S., including California, Washington, New York and Virginia. It will use the new capital in part to expand into new markets, but also to expand to thousands of vehicles, do some hiring and bring to market new technologies. It's eyeing markets such as the San Francisco Bay Area, Miami, Boston and Chicago, among others.
The company is contracted with more than 130 properties, most of which are among the top 50 property management companies in the US, which represent more than 2.5 million apartment units, according to Hopkins. Envoy currently has over 5,300 registered drivers (users) currently compared to over 3,200 last year.
"Existing properties and future developments can leverage Envoy as an amenity to attract and retain residents, driving faster lease-up and tenant retention by providing something residents actually want to use, and that can lower their cost of living," Hopkins told FinLedger. "Developers can also leverage Envoy's business model to reduce parking requirements, which is a huge cost saving."
Heather Widman, a principal at Building Ventures, said her firm invested in Envoy because it "makes manifest for its customers today a future that embraces electric mobility, the sharing economy, utilization of space, and the tenant experience."
"They have latched onto an idea whose time has come, harnessing the unique capabilities of a boom in electric vehicle offerings and found two go-to-market vectors – residential and commercial real estate – to deploy against," Widman wrote via email. "We believe that Envoy will not only become a demanded amenity across communities but will also help usher in the electric mobility revolution."
On Wednesday, FinLedger covered the news of another proptech startup raising money. Spruce, an on-demand services startup focused on the multifamily industry, raised $8 million in a Series A round of funding.