Truepic, a San Diego, California-based photo and video verification software company, is working with financial institutions such as lenders and insurance companies to boost loan underwriting and approve insurance claims faster by conducting virtual inspections.
The company's software technology can verify the identity of potential borrowers for loan underwriters, ensuring that equipment in various industries is functional before receiving financing and working with insurance companies as they receive claims for damage to automobiles. The software has emerged as a highly sought after method for companies to verify both borrowers, equipment and damages.
Founded in 2015, Truepic's software can authenticate where photos were taken and prove that they were not manipulated since there are an increasing number of deceptive photos and personal information that can be purchased on the Dark Web, social media and via software that can change the metadata of an image's time or location.
The company's app runs photos through 22 fraud detection and fraud prevention tests, said Craig Stack, founder and president of Truepic. Truepic created a virtual inspection platform around the photos since current third-party site inspection processes are slow and often require an employee to schedule a time with a consumer, go to a location and take photos.
"We currently hold 13 issued patents and have 10 more coming," he said.
Demand for the company's software has grown with the coronavirus pandemic since many businesses are limiting in-person interactions. Truepic says that over 25% of its revenue stems from financial institutions and lenders. In fact, the company says that that banks and lenders represent its largest growth vertical, with the institutions using its technology to do things such as conducting inspections before deploying loans and funds and ensuring equipment is functional and in possession for equipment financing.
For the past two years, Truepic has worked with the insurance industry to make sure consumers were in physical possession of expensive items they wanted to ensure such as artwork or jewelry.
The company also works in the warranty industry and focuses on the automotive sector since there is "so much fraud," Stack said.
Dealerships can use the company's technology to receive photographs back seamlessly and instantaneously. The larger extended service contract providers that sell insurance to consumers when their windshields are broken or get a flat tire use Truepic to verify that "there truly is damage" before they will pay out a claim.
The company also works in real estate lending, especially in the consumer home renovation sector to verify that homeowners are drawing down on the loan to upgrade their kitchen, he said. Lenders can eliminate hiring expensive and time-consuming third-party companies and expedite the process.
Truepic's software also helps lenders authenticate borrowers for large banks by having people snap a selfie and hold up a driver's license.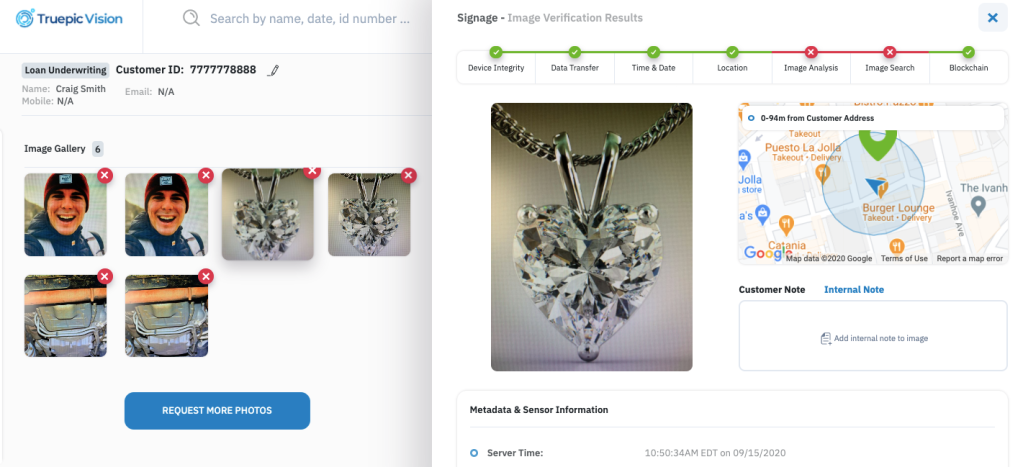 "We're able to give them information that they can't get anywhere else they can't get from an Equifax or Transunion," Stack said.
The software can help identify the borrowers and ensure that their photos were not manipulated and that the information was not purchased on the Dark Web.
"We're going to show you exactly the exact location and the exact time and date," he said. "So it's a really elegant way within seconds to truly get to the root of who is on the other end of the transaction."
The software allows companies in other industries such as franchises to make sure the owners are in compliance. There is also a Salesforce plug-in so that users can trigger an inspection directly from Salesforce, Stack said.
"We have an API that can tie into your CRM that would pre-populate these fields," he said.
Truepic's machine learning software can also check to see if a user's phone has been jailbroken and whether there is any interruption in data from when a photo or video was shot. Users can not upload an existing photo or video or attempt to spoof the app since the company's servers will ping local cell phone towers or WiFi networks.
"Our server knows the universal date, time and location if you're trying to manipulate your device and it will immediately identify and flag it," Stack said.
Truepic raised $8 million in 2018 in a Series A round of financing from Dowling Capital Partners; Jeffrey Parker, co-founder of FirstCall and former CEO of Thomson Financial; Andrew "Flip" Filipowski, Founder and CEO of Platinum Technology and SilkRoad Technology; William Sahlman, a Harvard Business School professor and venture capitalist and other investment offices.