As banks across the country are trying to rationalize their branch strategy, one bank in Virginia has purchased 20,000 square feet of new space. The Chesapeake Bank Tech Center will house its payments team instead of teller lines, and the space was designed to encourage collaboration.
The space was the brainchild of the bank's CIO, DJ Seeterlin, and SVP Kate Root.
As Root recalls, her first day with the bank, a now $1.3 billion asset institution, was much too quiet. "I walked down the hall and every single employee sat in an office with a big glass door that was closed," Root says. She remembers thinking "'I've got a lot to change here.'"
Root came to the payments division of Chesapeake Bank at the start of 2015. This was after a long career in financial services that began with the merchant services division of Jefferson Bank, founded by industry icon, Betsy Cohen.
Root followed Cohen in 1999 when she founded The Bancorp Bank — one of the institutions that spearheaded banking-as-a-service. Decades later, Chesapeake tapped Root to head up its merchant services division, which supports over 10,000 merchants through a combination of local customers and the clients of several independent sales organizations the bank supports.
Payments is a major differentiator for the bank, which is one of the founding members of the Alloy Labs Alliance's recently announced open payments network, CHUCK. The bank's payments team was outgrowing its current space, after the division spilled over into nearby office space, Root and Seeterlin decided it was time to make a move.
That need aligned with the bank's desire to be closer to major metropolitan areas like Richmond, where it would be easier to attract new talent. Chesapeake found available real estate in what used to be a Farm Fresh grocery store. They hired Williamsburg architects to outfit the space.
Root was confident that an open floor plan would encourage the kind of collaboration the team needed, but it wasn't lost on her that she was asking staff to make a big change. So the bank took pains to create an engaging, beautiful design. The kitchen and common area for the space are in the center of the building. Root says the space is humming with activity in the mornings and afternoons. The few offices that do still exist are also in the middle of the building so that employees who traded private offices for cubicles were able to be near windows that bring in sunlight. Each cubicle is outfitted with a wardrobe, rising desk, and space for personalization.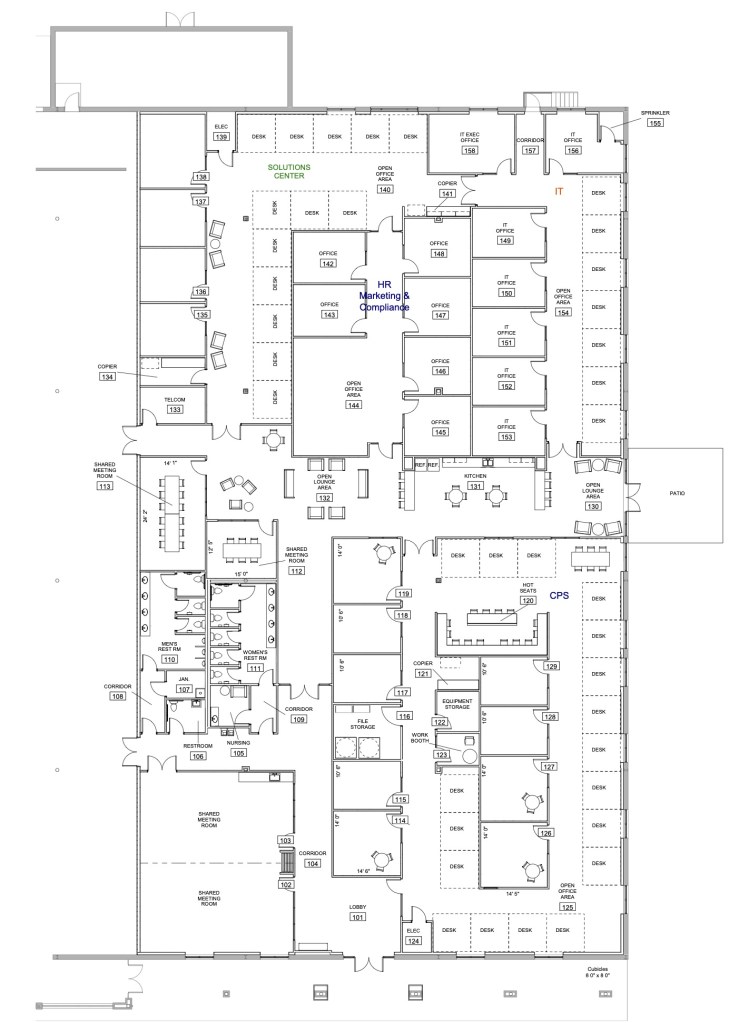 The new Technology Center houses other back office functions in addition to the payments team. About half of the IT group reports there, along with some staff from marketing, risk, compliance, and the call center.
Root has already seen the benefits of having these groups working in close proximity to one another. To illustrate, a marketing initiative that involved issuing prepaid cards was simplified and sped up because of the proximity of key players in the tech hub.
Root explains that the prepaid department jumped in after overhearing a marketing person speaking about the project. She says that "because the people that needed to learn how all of the pieces were going to work together were physically here in the same place, this promotion that could've taken forever was turned around in a matter of days."
In addition to these new collaboration opportunities, the Tech Center is making Chesapeake a more attractive place to work. While all Chesapeake employees must report to an office each day, they have the option of working from the Tech Center a few days a week if it's helpful for their commute. Chesapeake also leased some of its surplus square footage to a private daycare, so employees effectively have on-site childcare available.
The Center's grand opening was delayed due to Covid, but Chesapeake hopes to host a commemorative celebration this spring.